I know a guy who has this awesome business of laser etching. He basically has a machine that prints the designs on whatever you want.
I was wondering if anyone would be interested in -bZ- flasks or knives as a promotional item?
Here is the logo that pinecone submitted.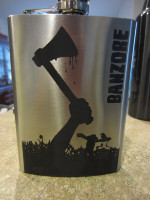 Maybe even some of the metal SteelSeries gaming mouse pads?
Update:
Here is the one with the -bZ- skull. This one will cost $20 shipped!